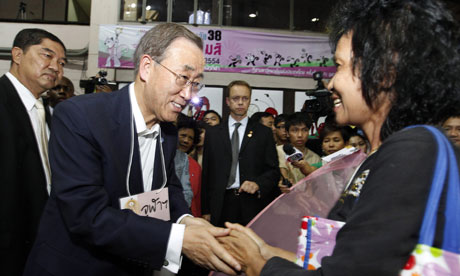 The UN secretary general, Ban Ki-moon, greets flood-affected people housed in tents in a sports hall at Chulalongkorn University in Bangkok. Photograph: Barbara Walton/EPA
Severe flooding has caused serious damage across south-east Asia, affecting around 9 million people. Thailand has been better placed to cope than its neighbours
Agapot squats-down next to his green dome tent, pitched inside a sports hall in Chonburi, an hour south of Bangkok. He's a 24-year-old factory worker left with no home and no job after the worst floods to hit Thailand for more than 50 years.
"The factory announced a three-day holiday when the floods hit," he said. "But since then we've heard nothing." He has been living in an emergency evacuation centre for over a month now, after fleeing from his family home in northern Bangkok when a canal burst its banks. "The current was so strong I couldn't stand up properly," he said. They didn't have enough time to rescue any belongings, and the house is now submerged up to the ceiling. Twenty members of his family and close neighbours are camping in the gym, along with hundreds of other evacuees from the capital.
They are some of the estimated 9 million people affected by the severe flooding that has caused serious damage across south-east Asia. Thailand has been worst hit – with more than a third of provinces flooded, parts of the capital under water and nearly 600 dead. The UN Office for the Co-ordination of Humanitarian Affairs (Ocha) estimates that 250 people have died in Cambodia after heavy monsoon rains led to the country's worst floods in a decade. Vietnam, Burma and the Philippines have also seen more than 100 dead and hundreds of thousands more displaced.
As the waters gradually recede, attention is now turning to the post-flood effects on the countries. Thailand is better placed to cope than its neighbours. There have already been reported outbreaks of cholera and other waterborne infections in Cambodia. Many evacuees have been forced to bed down on plastic sheets laid on muddy ground close to livestock and pets – leading to serious risks of disease.
Thailand, with well-equipped evacuation centres – staffed by medical personnel and bustling with volunteers handing out regular meals – faces different challenges. Widespread urban flooding in a developed capital city like Bangkok is "pretty much unprecedented", according to Mark Thomas, Unicef's chief of communications. The floods have shut down factories, affected large numbers of small businesses, and disrupted national and international supply chains – leaving tens of thousands of workers like Agapot jobless.
The country's important tourism industry is also suffering. Arrivals to the international airport, Suvarnabhumi, outside Bangkok, are down 25%, even though the airport and tourist areas in the south have been unaffected by the floods. With damage to industry, tourism and agriculture, the Thai chamber of commerce estimates the total flood costs will be around $11bn.
The government has announced a compensation scheme for households affected by flooding. However, a Bangkok Post investigation found the process for claiming was long and bureaucratic – with families needing documents that many had lost in the floods. Mol Plungjamras, a Bangkok resident, had mixed feelings about the plan: "[The money's] not enough to renovate the house, but it's better than nothing," she said.
The UN secretary general, Ban Ki-moon, visiting Thailand last week, said he had, "emphasised the importance of learning lessons from this mega flooding". Ban was en route to the Durban climate change conference where he is calling for a $100bn fund to help developing countries mitigate the impact of global warming.
While individual events such as the flooding in south-east Asia can't be causally linked to climate change, they do demonstrate the impact that an increased frequency of weather extremes will have on countries in the region. With sea level rises also likely to present a serious risk of urban flooding around the world, Bangkok's experience could serve as a template for future disaster management.
Unicef's Thomas said so far he'd been impressed by the government's response. "Given the amount of water, the authorities have done a pretty good job," he said. However, the real test will begin when the flood waters start to recede and those displaced have to return home.
Agapot is currently satisfied with the evacuation provision, but he is worried about the future. "We need government support, money and jobs," he said. For a country struggling with the aftermath of urban "mega-flooding", his expectations will provide a real challenge for the Thai administration to meet.
Source: http://www.guardian.co.uk/global-development/poverty-matters/2011/nov/25/lessons-learned-asia-floods-thailand
Comments
comments